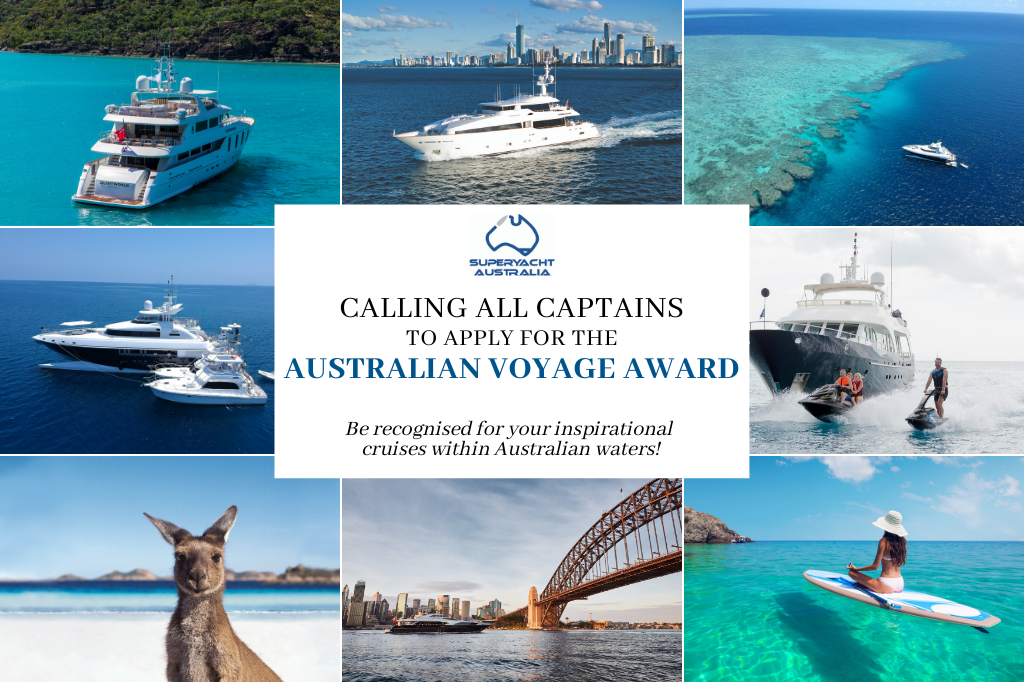 After its debut at the 2018 Australian Marine Industry Awards, this prestigious prize will be presented again this year to the superyacht, in the opinion of the judges, completed the most inspirational cruise between 1 January 2019 – 30 June 2020, whereby the majority of the cruise was undertaken in Australian waters.
APPLY NOW:
Download the Australian Voyage Award application form by clicking the button below
AUSTRALIAN VOYAGE AWARD APPLICATION FORM »
ELIGIBILITY:
Applications are invited for the most inspirational cruise between 1 January 2019 – 30 June 2020 in Australian Waters or the majority in Australian Waters from any Captain/Owner or a person nominated by the owner (for instance the principal of a charter party but NOT a member of the crew) who must have been aboard for a significant proportion of the cruise.
SUBMITTING YOUR APPLICATION:
All applications must be submitted by email to esimpson@aimex.asn.au by the closing date Tuesday 30 June, 2020 5pm AEST. Applications or further entry material will not be accepted after this date.
---
CONGRATULATIONS TO M/Y SPIRIT, THE WINNER OF THE 2019 AUSTRALIAN VOYAGE AWARD
The inspirational Gold Coast City Marina & Shipyard Australian Voyage Award was presented to the intrepid Captain Martin Debanks of luxury charter yacht, M/Y SPIRIT, for the voyage of a 10-day charter from Cairns, then Lizard Island to Port Douglas.
"There was special mission for our client and her family, checking out the Great Barrier Reef and seeing for themselves it's general health, they are avid snorkelers who very much into conservation and preservation of marine life. This is their seventh visit and they were thrilled and very relieved to see the Reef is in very good condition. They spent at least four hours a day snorkelling, and particularly loved Pixies Reef, off Ribbon Reef number 10. I feel privileged to receive such a fantastic Award and to win it for a local Voyage is a proud moment. It's our local region and so many people's bread and butter such as marlin fishing operations and dive boats – who do a brilliant job protecting the Reef and showcasing it to the world. It is a fantastic way to counter some of the sensational media coverage around the health of the Reef."
Martin DeBanks, Captain of M/Y Spirit